Being around and driving a snowmobile is certainly an entertaining adventure and activity that requires appropriate gear and equipment. The best snowmobile helmets are among the essentials, and they need to offer quality protection from impact but be comfortable enough to wear all day long.
You will find them in various shapes, forms, and sizes, and all of that for different budgets. Picking the right one can certainly be troublesome, especially if you do not know what to look for. Luckily, we are here to help, so we made a list of some of the best-reviewed helmets that could satisfy your needs and provide the necessary protection. We have a lot of ground to cover, so without further redo, let us get started.
List of Best Snowmobile Helmets
1. Delta R3L Ignite Helmet
Delta R3L Ignite helmet is a perfect choice for everyone that requires a full-face or modular helmet. As you can gather from its name, Delta R3L Ignite has an Ignite dual-pane heated sheld so that you can keep it on all day long without any fog or sight obstructions you can encounter with lower-quality helmets.
This feature is particularly good for users that prefer wearing eyeglasses under their helmets during rides. Some other cool features in this DOT/ECE dual-certified helmet include an easy magnetic strap clasp, liner and cheek pads, and poly alloy shell construction with two different shell sizes.
It is truly everything you can wish for in your snowmobile helmet. Comfort, adjustability, and protection are on a very high level, and the price tag with which this product comes seems relatively reasonable when you consider all the cool features that come along. On top of it all, the helmet looks really cool, so there are a couple of style points you will get on top of it all.
2. Typhoon K27 Snocross Snowmobile Helmet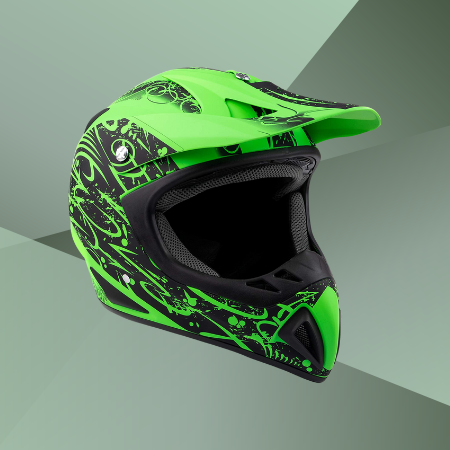 Typhoon K27 Snocross is a DOT-certified and budget-friendly helmet that is suitable for casual snowmobile riders. In case you do not want to break the bank and buy a helmet that provides quality protection and comfort, then this might be an ideal product for you.
The helmet features a removable breath guard, removable helmet liner, and vents along the back of the helmet. The liner is also removable, so when it gets dirty, you can easily wash it completely hassle-free. The helmet also comes with an adjustable sun visor so that you will get excellent sight protection on sunny days.
In addition, this helmet is very warm due to its cozy and extremely warm liner. Moreover, it is available in nine colors and five different sizes, so you are bound to find the one that will fit you perfectly and make you look cool while wearing it.
3. Vega Helmets Caldera Unisex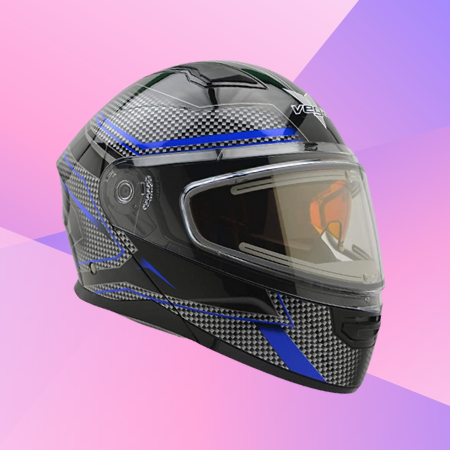 Coming from the Vega Helmets Store, this all-around helmet is the perfect protective gear for all adventurers that enjoy drives on street sport motorcycles, off-road bikes, street bikes, and of course, snowmobiles. In addition, it comes at a fair price, especially when you consider all the cool features it comes with.
The modular swing is very smooth and feels quite durable, while the helmet's breath diverter is an absolute lifesaver. It helps you keep the warmth while also keeping your glasses and visor clear and your vision unobstructed. The one downside is that the little foam strip across the top is mildly irritant, but it is a minor drawback considering all the other positives.
This product possesses all the cool features of a great helmet due to its comfort, heated visor, and great vision all around. You can find this helmet in six different colors, and it is available in seven different sizes, so you are bound to find the perfect fit after detailed research.
4. Castle X Mode D/S SV Dual Sport Snowmobile Helmet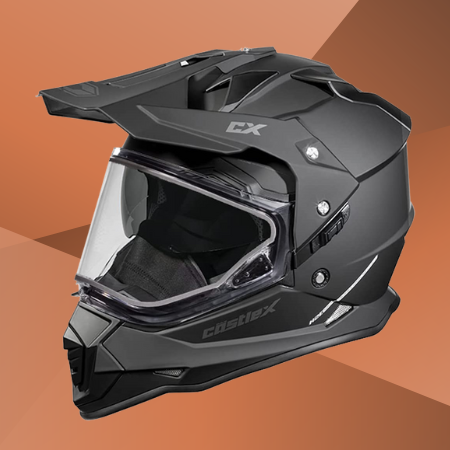 Castle X Mode is a visually appealing helmet with an aggressive design coming from the Castle X store. It is a comfortable and warm helmet with which you can wear eyeglasses easily. The shell of this product is structured using advanced CAD technology and polycarbonate composite injection molding.
In addition, the liner of the helmet has a multi-density EPS placement in the chin area. The ventilation system is very good, and the airflow is on a very high level, eliminating the surplus heat and moisture with which you often have contact during prolonged rides.
The face cover of the helmet is hard-coated to avoid any unnecessary scratches, and considering it comes with a high-definition amber tint sun visor, you will have clear and unobstructed vision even on sunny days when visibility is lower.
5. Typhoon TH158 Dual Visor Modular Full Face Snowmobile Helmet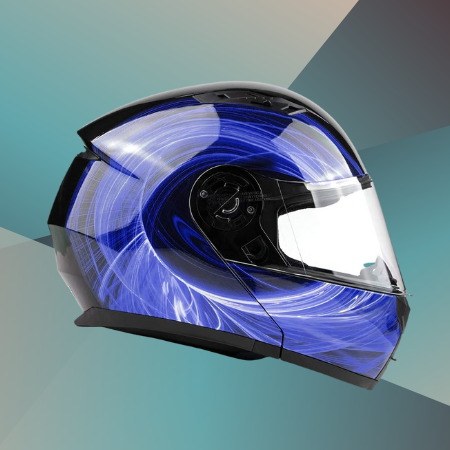 This product is another great helmet coming from the Typhoon Helmets Store, available in a wide variety of colors and sizes. When it comes to comfort levels, vision, and warmth, this helmet checks all the important boxes and provides a superb quality/price ratio.
What separates this product from the rest of the pack is the fact that it is a modular/flip-up design with a heated shield. It is very convenient since many snowmobilers prefer the ability to flip up the helmet. It comes with two lens shields, the installed single pane, and one double pane.
Moreover, the lenses boast anti-fog coating on the inside and scratch-resistant coating outside, so that you get great vision and prolonged durability. The breath box and chin skirt are both adjustable for extra convenience, so there is plenty to like about this helmet. Moreover, it is quite affordable, so whenever you get an opportunity, check it out.
6. Ski-doo Modular 3 Snowmobiling Helmet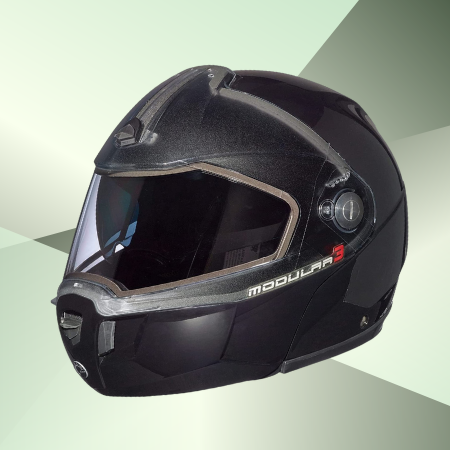 The Ski-doo Modular 3 is an excellent snowmobile helmet that fantastically covers all the basics while also offering innovative construction and design elements that significantly boost the overall value. It is a cool-looking product with a sleek aerodynamic style that will certainly give you a few compliments during your rides.
One of the coolest features of Ski-doo Modular 3 is its wide eye-opening. You get an excellent field of view that is even more enhanced by a built-in Clear Vision Technology in the visor, which does an excellent job of eliminating distortion and providing a clear view.
You also get a retractable sun shield that you can operate with a simple touch of a button, allowing quick adaptation to changing lighting conditions and protecting your sight from strong sun rays. In addition, the helmet is fog resistant, not fog proof, so in case you want some extra fog-fighting features, you will have to spend a little extra on the electric version of this helmet.
7. VEGA Helmets V-Star Snowmobile Helmet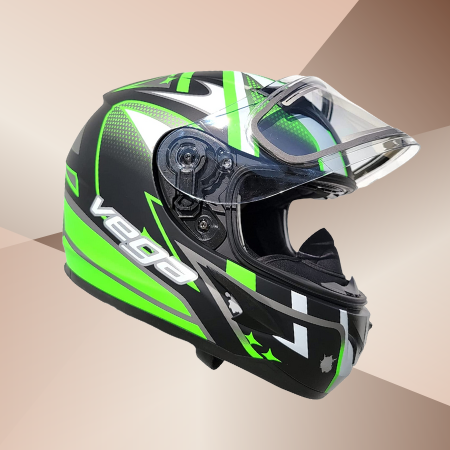 The Vega V-Star snowmobile helmet is a synonym for feature-packed protection for your head. It is DOT, and ECE certified and has an ABS shell to protect the expanded polystyrene foam lining, which softens the blow in case of an unexpected impact.
The feature that truly stands out with this product is its Comfort Tech Wick-Dri Liner, which does a superb job at keeping your head dry all day long, even throughout prolonged rides. The chin strap comes with a D-Ring that keeps the helmet securely strapped to your head.
The breath box on this unit is absolutely amazing and highly functional, as it works wonders in reducing fogging by effectively directing your breath away from the shield. Moreover, it is available for more than a reasonable price, and when you consider all positives it comes with, it is a really good bargain.
8. ILM Motorcycle Snowmobile Full Face Helmet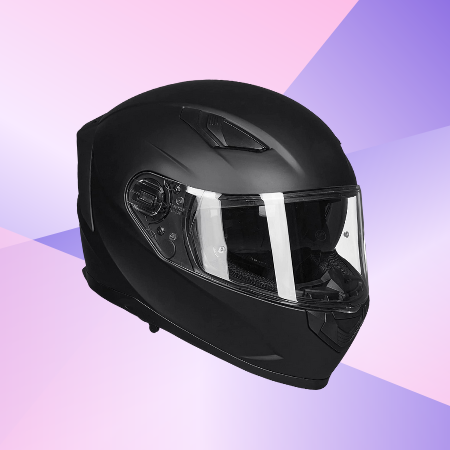 The ILM snowmobile helmet is another great pick for anyone that requires a quality helmet without spending too much on it. It has a full-face design and is packed with fancy features that you would expect to see in a much more expensive helmet on the market.
The basic version of this helmet does not come with a heated shield, but you can upgrade for some extra cash. However, with budget consideration in mind, skipping on the electrical option is not a big deal. In addition, this helmet comes with a Pinlock insert that helps keep the visor in place and your view unobstructed.
This insert also does a great job of reducing the fog without letting the cold air in, so you will remain warm with a clear vision in front of you. It is worth mentioning that this feature works to an extent, but it is not the best fog-fighting solution on the market. So, if you need only basics with some extra features, this helmet checks all the important boxes.
9. GLX GX23 Dirt Bike Snowmobile Helmet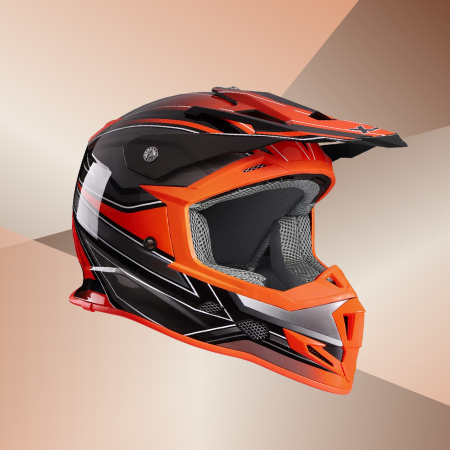 GLX GX23 is an excellent and well-built snowmobile helmet that provides ultimate protection from impacts. It is really comfortable and true to the size, so picking the one that will suit you best will not be an issue. Moreover, it is available in four different colors, so you will be able to choose the one that will work best with your outfit.
This is a safe and reliable helmet that is light in weight and elastic in design. As far as the airflow goes, this helmet leaves a lot to be desired since it funnels air directly onto your head. Aside from this drawback, GX23 will do wonders for you in terms of protection on the road.
The front mouth guard allows you to breathe normally, and the whole construction is designed so well that it can resist very strong impacts and provide enough shock absorption to prevent any injuries. Overall it is a great helmet that delivers much more than you would anticipate judging on the price only.
10. AHR RUN-F Motorcycle Snowmobile Full Face Helmet
AHR RUN-F is a full-face snowmobile helmet that meets all DOT safety standards and grants tons of protection for motorcycle or snowmobile adventures. It is rather comfortable and pleasant to wear, especially due to its streamlined aerodynamic design that reduces wind noise and drag.
This is a sleek and lightweight helmet that also features an excellent sun visor to keep your vision unobstructed and is a really nice touch on top of other cool features that come along. The shell is made of upgraded lightweight ABS with a thick, high-density, and fully vented EPS liner.
Moreover, this helmet is rather easy to put on and off, thanks to its quick-release buckle. In addition, the strap is very sturdy and strong and will keep your helmet securely attached to the head. It is also worth mentioning that AHR RUN-F comes with a pretty low price tag, and in terms of value, it provides much more than you actually pay.
Things to Consider Before Purchasing Snowmobile Helmets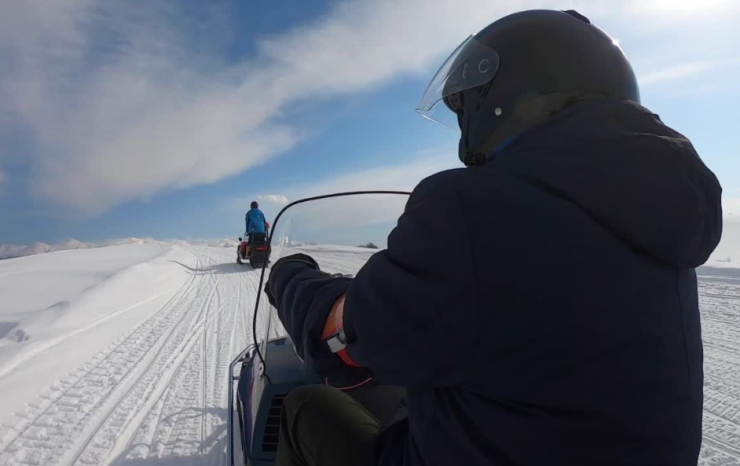 There are hundreds of brands of snowmobile helmets on today's market, but only some of them will provide all the protection and comfort you are required to have. To pick an adequate product, you need to know the essential features that make a great helmet. We want to help you with this, so we have listed some of the most important things to consider for this purchase in the section below.
Type
There are three types of snowmobile helmets you can go for, and they include full-face, modular, and snocross. Full-face ones feature a completely protected dome with one seamless shell. Modular ones are likely the best choice as they feature a jaw that can be locked down for a full-face style or raised for an open-face setup.
The last type is snocross, and these helmets are a mix of dirt bike helmets and full-face snowmobile helmets. They are very popular among high-flying adrenaline riders and provide lots of ventilation and customization.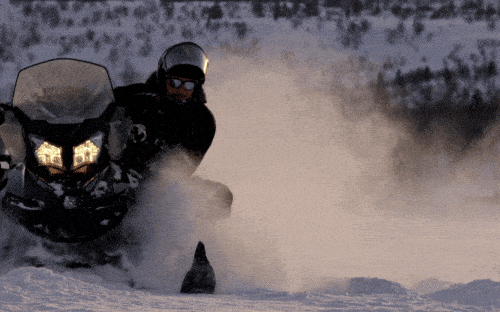 Breath Guard
The breath guard is the part of the helmet that seals tightly around your face so it can direct your warm breath down and away from the shield. It effectively prevents moist and hot breath from circulating up in your helmet, which is why you should always look for a helmet that possesses a high-quality breath guard.
Safety Rating
There are three different safety ratings that are necessary for helmets, depending on where you are living and what you plan to do with a helmet. DOT rating is the most important one, and it is a no-brainer certification you should look for in every helmet you want to purchase.
Snell is another independent safety rating with very high standards, so it is very smart to buy the helmet with it. ECE rating is generally reserved for European buyers, and it stands for the Economic Commission for Europe.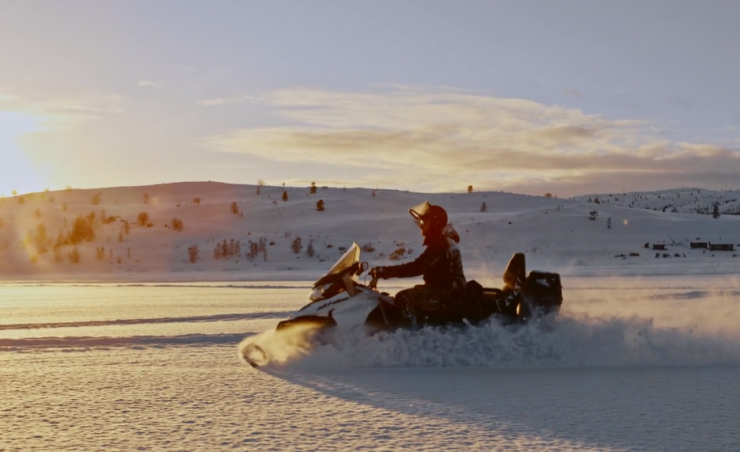 Ventilation
Ventilation bears huge importance, even in cold weather conditions. Despite cold temperatures, these helmets can get hot very fast, especially for more active and aggressive riders. Airflow is essential for heat management, and adjustable vents are a great tool for keeping the temperature under control and fog away.
Proper Fit
A proper fit for your snowmobile is essential since it will provide you with a comfortable ride but also plenty of safety. A helmet that is too big may cause neck strain and may run the risk of coming off or not granting sufficient cushioning in any unexpected accident.
Frequently Asked Questions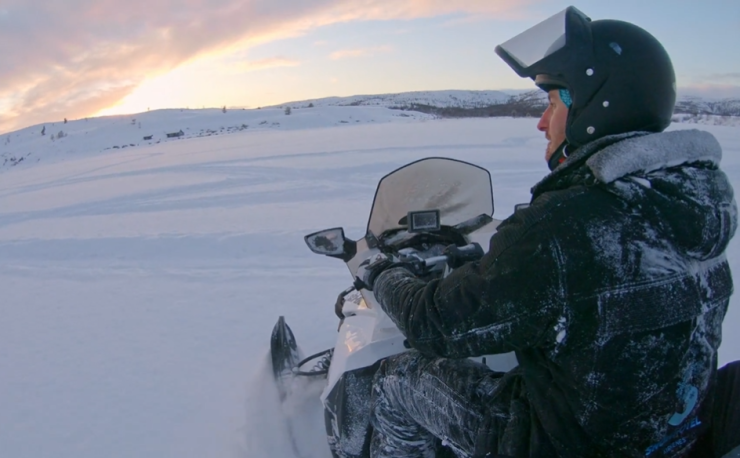 1. How often should I replace my snowmobile helmet?
Manufacturers and Snell Foundation recommend that you should replace your snowmobile helmet every three to five years. This is due to the fact that glues, resins, and other materials can deteriorate and detract from the overall safety of the helmet.
2. Can I use a motorcycle helmet for the snowmobile?
Although you can use a motorcycle helmet for snowmobiling, it is not the best option to go for. Motorcycle helmets typically have a single pane face shield which can fog up quickly when riding at low speeds. This would force you to ride with a face shield gapped slightly to allow for airflow, which can be very unpleasant on long rides.
3. Why are modular helmets considered the most convenient option?
Modular helmets are not only the safest, but they are the most convenient option to go for since they are full-face with a standard visor but can also be hinged up the jaw to expose the face. They are like all other types of helmets wrapped in one neat package.
4. How tight should a snowmobile helmet fit?
The most important thing is that your helmet is tight enough to stay in place during an accident or sudden impact. This means that you will likely have to keep it fairly tight on your head, so it does not move around when you move your head.
Final Words
This concludes our guide to the best snowmobile helmets. Remember to always look for a helmet that has strong and safe construction to protect you from impacts, and that has one of three essential safety ratings so that you can drive completely hassle-free.
We hope you liked our picks and that you will consider purchasing one of them. If you are still unsure of which helmet to pick, revisit our list and seek second opinions from other buyers, as it will paint you a better picture of what a quality helmet is and grant you better value for money spent.